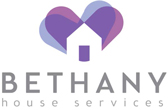 It starts with one step.
Families come to Bethany House from many different paths, life experiences and circumstances.
No matter the twists and turns life has thrown at them, they come to Bethany House seeking the same thing, a place to find rest and restoration. That's what we provide: care and comfort, community and support, encouragement and inspiration, each leading them one step closer to a home of their own.
Our Vision:
To live in a community where all families have a place to call home, and no one spends a night without shelter.
Help out our families: Come and serve dinner