Fat Tuesday, February 16th, 2021
6 to 9 pm
LIVE Virtual Event
On February 16, 2021 "Fat Tuesday", the Northern Kentucky Restaurant Association (NKRA), will host its 30th Annual Mardi Gras for Homeless Children event.  This virtual event will feature local restaurants, and food/drink purveyors who will join together to provide a memorable evening, supporting a worthy cause.  Although we wish we could all gather in person, to ensure the safety of all, this event will be hosted live on a virtual platform.
Mardi Gras for Homeless Children was created by NKRA in 1992 in response to the death of three local homeless children in an abandoned garage fire.  The annual event continues to raise money and increase awareness regarding the challenges faced by homeless children in your community.  The event's proceeds benefit three local shelters: Bethany House Services, Cincinnati; Brighton Center's Homeward Bound Shelter, Covington; and Welcome House of Northern Kentucky, Inc., Covington.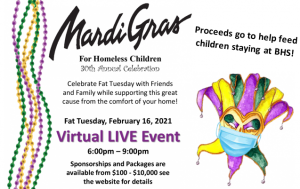 In March of 2020, the world as we knew it, changed in an instant.  As we have all had to navigate the impact of COVID-19, these three incredible organizations have remained open and operating to ensure that children have a safe environment! Your support of this event makes it possible for these shelters to provide a safe, supportive environment to children in their most vulnerable times.  Your contribution allows children to have a safe place to sleep, a healthy meal, access to supportive services, and caring adults who can provide much needed hope on what can be the darkest day for children.
When you support Mardi Gras for Homeless Children, you invest in the future of our community.  All monies raised are used for yearly food budgets, and other basic needs of the children we serve.  Please consider purchasing a ticket, sponsoring the event, participating in the silent auction, and so much more!
View our silent auction at – https://mghc2021.givesmart.com 
PARTY AT HOME KITS INCLUDE:
Beads, Masks, Party Supplies

Hurricane Kits for the Mardi Gras classic drink

Coupon to a participating Mardi Gras Restaurant

Bottle of Tito's Handmade Vodka

** Sponsorship Levels will also receive an additional bottle of wine or spirits**
Thank you!