Thank you for your interest in volunteering with Bethany House Services!
---
Interested in volunteering?
---
VOLUNTEERING at Bethany House is rewarding, fun, and most important, makes a difference in the lives of homeless families. We have a variety of ways that you can get involved in our mission. If you don't see something that matches what you're looking for or have an idea for something new, let us know! We're always looking for new ways to match volunteer efforts with our needs. Sign up for a volunteer orientation today by connecting with us here. 
*** We ask that volunteers under the age 17 and under must do a paper copy of the volunteer application as your parent or guardian must sign your form.***
Group Opportunities
Host a dinner at the 180 guests, Monday through Thursday evenings: Dinner needs to be served at 6 p.m. Be prepared to cook in our full-service kitchen and serve our clients. Dinner volunteers have the opportunity to stay after dinner and provide child care while the moms attend life skills classes. Please check with us first if you would like to help with child care; a background check is required for adults age 18 and older (Fee $5). For more information about sponsoring a dinner, click here.
Host a weekend breakfast by preparing or catering food for 180 guests: Be prepared to cook in our full-service kitchen and serve our clients at the shelter Saturday and Sunday mornings at 9 a.m. (Child care is NOT an available opportunity on the weekends.) For complete details on hosting breakfast, click here.
Donation Drive: Arrange a supply/donation drive for items on our wish list. Call our office for most needed items.
Third Party Fundraisers: Host a fundraiser of your own! Gather a group to host small fundraisers such as a bake sale, car wash, or pub crawl to raise funds for the many needs our families may have. 
Yardwork: Help with landscaping, raking leaves, trash pick-up, and general outside cleaning at all shelters.
Help with mailings: Prepare and organize mailings during the day.
Fall and spring cleaning: Includes painting, cleaning woodwork, window sills, windows, window screens, playrooms, kitchens at any of our properties.
On-going Tasks: Help with organizing donations, shredding, and filing.
Individual Opportunities
Kidz Zone is Monday through Thursday from 6:00-8:00 p.m. You must be over 18 and complete a volunteer application and a background check ($5 fee/done in-house) first. Observation is required to make sure this a good fit for you. This is a wonderful opportunity to make a difference in the lives of our kids and give them a vision for a brighter future!
Child care is provided while parents attend classes Monday through Thursday from 6:30-8:15 pm at our shelter located at 4769 Reading Road. Adults over 18 need to complete a volunteer application, background check ($5 fee/done in-house) and tour the facility first. This is a PERFECT opportunity for high school students (complete application and tour – no background check needed for under 18). Sometimes dinner volunteers stay for child care but we really need people who can commit to once a week for a three month period.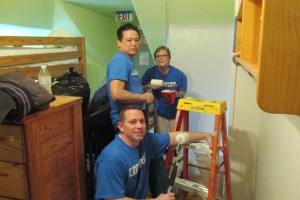 Handyman/woman needed to help maintain the shelter and staff offices. BHS's seven buildings need repair work and updating on an ongoing basis.
Office Assistants are needed between 9 a.m. and 5 p.m. for administrative projects, filing, answering phones, etc.
Join a special event committee and help plan one of our three annual events:
Mardi Gras "Fat Tuesday" (February 21st, 2023)

Ales to Zinfandels Wine & Beer Tasting (October 2023)
Plan, prepare and run BHS fundraising events throughout the year. Activities range from planning the event, making follow-up calls to potential attendees, soliciting auction items, making auction baskets, and helping with setup and event registration. Or volunteer the day of the event to help with a variety of activities.
Bethany House Ambassadors are an energetic group of young professionals and emerging leaders that support homeless children and their families. Activities include serving dinner and breakfast, fun gatherings of members and signature volunteer and fundraising events.
Join our Speaker's Bureau and be an advocate for Bethany House. Share information with the community by speaking at organizations and corporate group meetings, visiting churches or schools. Training is provided.
Help with Mailings: Prepare and organize mailings during the day.
Custom Design Your Own Experience: Depending on skillset and interest, we can "custom design" a volunteer opportunity for you.
---