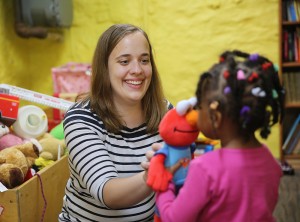 Thank you for your interest in volunteering with Bethany House Services!
The donation of your time, talents, and enthusiasm allows us to continue to offer life-saving hope and the comfort of home to families who are trying to rebuild their lives.
We have a variety of ways that you can get involved in our mission. Don't see something that matches what you're looking for or have an idea for something new? We're always looking for new ways to match volunteer efforts with our needs.
---
Here's what to do if you are interested in becoming an ongoing volunteer at BHS:
Schedule a day and time for an orientation and tour at our shelter and comprehe
Fill out the following paperwork:

Application: Adult or Minor

Read: "Ethical Rules and Considerations"
Adults sign the "Volunteer Agreement" in regards to rules and considerations
Minors use the "School Recommendation" form in place of the volunteer agreement
Background Check: If you are 18 years of age and older, you are required to do a background check: Cost to volunteer is $5
Adults must sign the "Volunteer Application Certification"
Reference other than a family member is required.
---
Notes:
Flexible Schedules are available to meet your needs, and a 6-month commitment is helpful but not necessary.
Minors under the age of 14 must be accompanied by an adult.
If volunteering for a special event, providing a meal, ice cream social, etc. there is a different process.
---